DISCLOSURE: This post contains affiliate links. If you buy through these links, I may earn a small commission.
Digital pianos are amazing devices, providing an instrument that sounds and feels incredibly similar to an acoustic piano with greater reliability and ease of maintenance. The prices cover such a range however, it can be very difficult to decide how much you should spend on a digital piano.
As a general rule, you should spend between $400 and $1000 on a digital piano for an instrument suitable for beginners to intermediate players to learn and practice on. For more advanced players and stage use, you can generally expect to pay between $1000 and $3000 for a high-quality instrument.
Several factors will affect how much you should spend on a digital piano, such as how you are planning to use it, your level of playing experience, the space you have available and the features you require. Read on for the price ranges you should be looking at based on your personal requirements.
If you are interested in checking out the best recording gear such as audio interfaces, studio monitor speakers, microphones, etc., you can find them at Amazon by clicking here.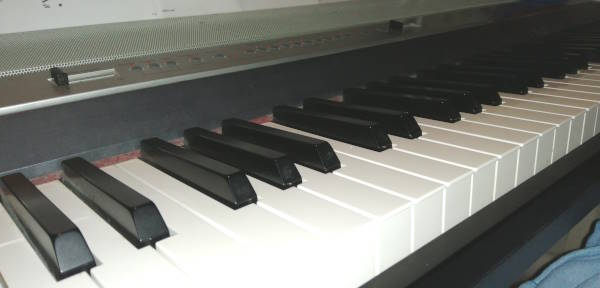 How much to spend on a digital piano
For those of you in a hurry, here is a table containing a general idea of how much to spend on a digital piano. These price ranges depend on your personal intended usage and circumstances. Remember these are very general figures – it is always possible you will find a digital piano right for you outside of these prices.
| Intended Use | Digital Piano Style | Price Range | Example (affiliate links) |
| --- | --- | --- | --- |
| Try out, see if the piano is for you | Slab | $200 – $400 | Alesis Recital |
| Budget model for beginners/intermediate to learn & practice | Upright | $400 – $1000 | Donner DEP-20 |
| Higher quality for more advanced learning/practice – nice piece of furniture! | Upright/Grand | $1000 – $5000+ | Yamaha YDP144 Arius |
| Replacement for an acoustic piano | Upright/Grand | $1000 – $5000+ | Yamaha YDP184 Arius |
| Budget stage piano for amateur gigging musician use | Slab | $300 – $1000 | Casio PX-S1100BK |
| Stage piano for professional musician use | Slab | $1000 – $3000 | Roland RD-2000 |
How much to spend on a digital piano
Why buy a digital piano?
If you're reading this article, you probably have a pretty good idea of the advantages of a digital piano over a traditional acoustic piano. I think it's worth taking a look at those benefits anyway; maybe you are unsure if a digital piano is right for you, and are looking for more information.
Let's briefly define what a digital piano is: an electronic instrument that plays and sounds like an acoustic piano, but uses digital electronics technology to produce the sound. This is instead of an acoustic piano's mechanical system of physical hammers hitting strings.
This use of digital technology offers the following advantages…
There are no internal moving parts, so there is much less to break down, wear out and eventually need repair or replacement
Digital pianos are always in tune. Acoustic pianos require a professional piano tuner to tune them at least once a year.
You can plug a pair of headphones into a digital piano for silent playing; great for late-night practice when you don't want to disturb your sleeping family. People are often surprised at just how loud even small acoustic pianos actually are.
Digital pianos usually have many sounds to choose from. In addition to several different acoustic piano sounds, they typically offer electric pianos, organs, harpsichords, strings and more.
You can get a very good digital piano for much cheaper than the equivalent acoustic instrument. Having said that, there are very expensive digital pianos on the market, although I would not recommend these for most people.
Digital pianos are great if you have limited space. Even the smallest acoustic pianos have quite a large footprint which could be a problem if you live in a small apartment for example.
Portability – digital pianos can be easily moved around, much easier than their very heavy acoustic counterparts.
Feel and sound these days are incredibly close to acoustic pianos. Weighted keys give an experience close to playing an acoustic piano, and the sounds in a digital piano are actually samples from real acoustic pianos. The technology has improved immensely since digital pianos first appeared on the market.
Practically all digital pianos these days come with MIDI connectivity, so you can connect it up to a computer. Check out the following two articles for information on what equipment you need to do this and instructions on how to connect it all up.
Digital piano costs based on intended use
How much you should spend on a digital piano depends on what you intend to use it for, how many other people will be using it and your personal experience and circumstances. Let's take the most common scenarios and deal with each in turn…
Just to try out a digital piano
Perhaps you have always wanted to learn the piano but have never got around to it. You don't want to spend too much money in case it turns out to not be for you, but you want a decent enough instrument to give it a good go.
You should be able to get a slab (just the keyboard body, with no stand or enclosure) digital piano for not much more than $200. This Alesis Recital 88 Key Digital Piano Keyboard from Amazon (affiliate link) is a good example.
For just trying out a digital piano, there is really no need to spend much more money than this. You still get an instrument with weighted keys that feels and sounds like a piano. If you decide to keep playing after trying it out, you can always upgrade to a better quality model.
You may also be interested in recording your digital piano. Depending on exactly what you want to do, a MIDI keyboard may be more suitable for you. Check out these two articles to help you understand a MIDI keyboard's capabilities and if it would be a better choice for you…
For you or your children to learn piano
This is perhaps the most common reason digital pianos are bought today. In this case, the look of the piano is probably quite important to you as it is likely to be in a common area such as a living room or dining room. It should ideally be a nice piece of furniture, as well as a musical instrument!
Rather than the slab form factor from the previous category, here you will be looking at upright pianos that have a stand and enclosure built-in. They are designed to be left in place rather than for portability, much like acoustic pianos.
Anywhere between $400 all the way up to $1000 should get you a fine digital piano, that you can set up somewhere in your common living space without it looking out of place. The built-in speakers in this price range of pianos are usually pretty good, and the feel is close to playing an acoustic piano if not exactly the same.
An example of the type of instrument you can get in this category is the Donner DEP-20 Beginner Digital Piano from Amazon (affiliate link). This should be ideal for you and/or your children to start learning to play the piano.
Experienced pianist to practice/perform on
This is essentially the next step up from the above category. If you are an experienced pianist looking for a digital piano, you will probably want something a bit higher quality.
In this category, the feel of the instrument when playing will likely be even closer to playing an acoustic piano. This could be important if you are used to a "real" piano – maybe you originally learned to play on one. The sound quality also takes a step-up here, with the speakers usually of higher quality and more attention paid to the design of the enclosure with regards to the sound.
You also start to get pianos that look more like acoustic pianos. Indeed some higher-end models are indistinguishable from acoustic instruments at first glance. We also have the digital "grand" piano format introduced here. These look like acoustic grand pianos, and you certainly pay a premium for them! There is no advantage in terms of sound quality, but they do look nice.
Really the sky is the limit with prices in this range. They start from about $1,000 up to well over $10,000!
Some very well-respected pianos in this category are the Yamaha Clavinova series, Casio Celviano, Kawai CA and Roland RP series.
As an acoustic piano replacement
Really, this is the same category as the previous one. If you are wanting to replace an acoustic piano with a digital equivalent, you are likely to be an experienced piano player wanting a playing experience as close as possible to an acoustic instrument.
The feel and sound quality are therefore very important to you. The look may also play a significant factor in your choice, if you want your new instrument to look as close as possible to your acoustic piano.
The price and instrument ranges recommended in the previous category are all appropriate here.
A stage piano
The last common use for a digital piano is as a live instrument for playing shows or gigs, a so-called stage piano. Maybe you play in a band; this is the type of instrument for you. Portability will be a very important factor, but not at the expense of feel or sound quality. Some instruments in this category do not have any speakers, as they would be expected to be plugged into a PA system or keyboard amplifier.
You can get very inexpensive slab keyboard-style digital pianos that would be suitable for this purpose. The already mentioned Donner DEP-20 Beginner Digital Piano would be a good example. This would suit an amateur musician, maybe one who only plays the occasional gig now and again.
For the pro musician who wants a pro-level instrument, you will be looking to spend considerably more. The build quality will be very important if this is an instrument that will be transported a lot, potentially getting knocked about a bit. You can expect to spend $600 at the lower end, but more realistically probably starting at about $1000 all the way up to around $3000.
The Roland RD-2000 is a good example of a higher-range stage piano.
If you are a professional classical pianist, it is likely that you will be playing an acoustic piano provided by the venue.
Buying second hand
One way to reduce the amount of money you spend on a digital piano is to buy a used instrument. This can be effective, but as always caveat emptor – let the buyer beware.
If you do choose to pursue the second-hand route, I would highly recommend trying the instrument before you buy; I would strongly caution against buying sight unseen. Without the warranty that you would get with a new instrument, it is extremely important that you thoroughly check the piano is in good working order before parting with any cash.
Check that all the keys work, that all the buttons/knobs/dials are fully functioning, that there are no crackles or pops or other unwanted noises. As long as you are careful, this can be a good way of potentially saving a few hundred dollars.
---
Here is some of my favorite home studio gear…

Thanks for reading this article. I hope you found it helpful in your home music-making activities. Here are a few of the tools that I personally use in my home studio. These are affiliate links, so if you decide to use any of them I'll earn a small commission.

Audio interface: My personal choice for audio interfaces are the Focusrite Scarlett series. I have been using these for years, and they have always given me great-sounding recordings. For a very reasonable price from Amazon you can buy the excellent Focusrite Scarlett 4i4, or if you don't need MIDI capability the Focusrite Solo is a great choice.

Amp sim: Guitar amplifier simulator software has come on leaps and bounds in recent years, such that I record all my electric guitar parts using amp sims these days. One of the very best is the incredible Amplitube from IK Multimedia, which I have used on many of my songs.

Headphones for recording: My favorite headphones for recording are the Sony MDR-7506s, which I use for monitoring during all my recording sessions. They can also be found in many pro recording studios. Get the Sony MDR-7506 headphones from Amazon here.

General-purpose microphone: You can't go wrong with a good ol' Shure SM-57, one of the most versatile and ubiquitous microphones around. I've been using one in my home studio for as long as I can remember. Amazon offers the Shure SM-57 for a very competitive price.

To see all of my most up-to-date recommendations, check out this resource I made for you!