DISCLOSURE: This post contains affiliate links. If you buy through these links, I may earn a small commission.
Many of our home studios are multi-purpose rooms that are also used for other things. Adding an extra pair of speakers just for listening to music may not be possible, due to space constraints or other reasons. So, can you get away with listening to music on your studio monitor speakers?
As a general rule, studio monitors are excellent for listening to music. They give a very accurate representation of the sound, revealing details that standard audio speakers can't. Studio monitors can take some getting used to as they are designed for accuracy, rather than to enhance the sound.
So is it worth buying a set of consumer-level audio speakers for music listening if you already have a pair of studio monitors? This article will help you with that decision, and the pros and cons of each type of speaker.
This article is about listening to music on studio monitors. You may also be interested in an article I have on the related question – are studio headphones good for listening to music? Check it out if you are considering buying studio headphones, studio monitor speakers, or both.
If you are interested in checking out the best recording gear such as audio interfaces, studio monitor speakers, microphones, etc., you can find them at Amazon by clicking here.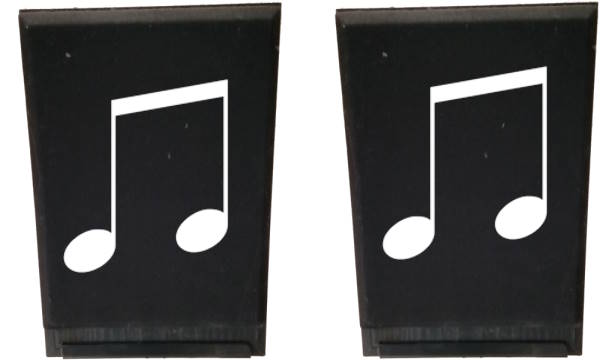 Studio monitors are great for listening to music
The main difference between studio monitor speakers and regular audio speakers is how they present the music to you.
Studio monitor speakers try to be as accurate as possible. This means they present the sound to you as close to the sound of the recording as possible, without altering it in any way. They do not try to improve or enhance the audio at all; if you listen to a bad recording through them, you will hear just how bad that recording is.
Regular audio speakers try to make the audio sound as good as they possibly can. They often have features that improve or enhance the sound; some sort of bass-boost is a very common example. Their aim is not accuracy, but presenting the sound in its best possible light.
Although it may seem like it, accuracy and the best-sound-possible are not the same things!
This makes sense when you consider the purpose that the speakers are usually used for. Studio monitors are used for mixing, where it is vital that they give you an accurate representation of a recording. If they are not accurate it can lead to potentially making bad decisions during mixing, not balancing your tracks properly, and ending up with a bad mix.
Contrast this with standard audio speakers, where they are usually used for listening to music, film or TV soundtracks, the audio from YouTube videos, etc. It does not particularly matter if they are accurate; you just want them to sound as good as they can.
You may be tempted to do your mixing on headphones rather than on studio monitors. If you are considering doing this, definitely check out my article on why it's considered bad to mix on headphones. You can do it, but it's important to be aware of the pitfalls and methods to get the best sound possible.
Studio monitor speakers are great for listening to music! They will give you the music as the producers intended, not artificially enhanced in any way. But, due to their accuracy, they will reveal flaws and details that maybe you haven't heard before.
If you are in the market for a pair of quality studio reference monitor speakers, I highly recommend the Kali LP-6 Monitor Speakers (affiliate link) available from Amazon for a very competitive price. These are great value speakers, which excellent clarity and detail for their price range. N.B: link is for one speaker.
As long as you are listening to a well-produced recording, studio monitors will sound great. And most music these days is very well produced. The sort of details they can reveal that standard speakers cannot include…
Guitar finger noise
Click of a drum stick on a cymbal
Background voices
Breath noises (from vocalists and wind instrument players)
Piano key and pedal noise
You can probably think of a few more yourself. If you enjoy these sorts of details, you will probably enjoy listening to music through studio monitor speakers. Personally, I love these details, and I think they are a great way to listen to music.
As a side note, If you're interested in using studio monitors for listening to music, then you may also be interested in my related article on recording without using studio monitors.
Switching from standard audio speakers to studio monitors for music listening could take some getting used to. Ultimately whether or not they are for you comes down to personal taste, which leads us nicely into the next section.
Your personal audio tastes
It may be that you have got used to how music sounds through the artificial enhancements that consumer-level audio speakers and headphones give you. If that is the case, then listening to music through studio monitors may not be for you. Or at least, it may take you a while to adapt to the very accurate, revealing sound they produce.
Some of the "features" you may notice that are missing from studio monitor speakers include…
Bass boost (perhaps the most common)
Built-in compression to even out volume levels
Scooped mids
Different music genre settings (Rock, Pop, Classical, etc)
What sounds good to one person, may not suit another. Think how widely musical tastes differ from person to person! Ultimately only you can decide if the sound of studio monitors is for you.
I suggest you try listening to some music through studio monitors, maybe through a friend's if you don't have any. Don't just try once and give up though. Give it a few tries over a period of time, giving your ears a chance to adjust their expectations to the new sound.
Normal speakers are no alternative to studio monitors
Studio monitors need to be accurate so they can help you can make decisions about your music. This is especially important during the mixing phase of song production. The more accurate the representation of your recording that they give you, the more likely you are to be able to get the balance of your mix right.
The so-called "flat response" (i.e. they do not color the sound at all) of studio monitors is therefore essential. For example, if your speakers artificially enhance bass, how could you properly balance the amount of bass frequencies in your mix? You couldn't.
For that reason, you can't really use conventional audio speakers for mixing. They "lie" to you, leading you to make potentially bad choices when mixing your song. For music production tasks where strict audio accuracy is not that important such as recording or audio editing, normal speakers will work fine.
Similarly, you may be interested in how feasible it is to use normal headphones for music production. This article looks into exactly what you can and can't use normal headphones for, and is recommended reading if you do any of your music production work using headphones.
Using studio monitors for listening to music though is fine, as long as you can get used to the detailed, revealing sound they give out.
Drawbacks of studio monitors for music listening
It's not all good news with studio monitors; they do have a few drawbacks for listening to music under certain circumstances.
Studio monitors do not project sound far
Studio monitors are what's known as near-field monitors. This means that they are designed to be listened to from quite a short distance away. This is typically in the region of about 6 feet or 2 meters away.
Think about a mixing engineer working on a track. They will probably sit perfectly still, dead in the center of the stereo image at a short distance from the speakers. It is in this setup that studio monitors work best.
Consequently, studio monitors do not project over longer distances like conventional audio speakers do. You will still hear them if you are further away, but they won't sound their best. Sound volume will also appear to drop off quicker with distance then with regular speakers.
So studio monitors are probably not great for a party in a large-ish room. But they are good for solo music listening, background music, watching TV shows or movies, etc.
Studio monitors are expensive
Studio monitors tend to cost considerably more than standard audio speakers. The high quality of the components used, the design effort put into them, the precision manufacturing techniques used, all contribute to the additional cost.
For this reason, I wouldn't buy studio monitors exclusively for listening to music. If that is their only intended use, you would probably be better off going for a pair of conventional speakers. Only if I were intending to do music production work on them as well would I consider purchasing a pair.
Similar to studio monitor speakers, a pair of studio reference headphones are an essential purchase for a home studio. I highly recommend the AKG K-702 Reference Headphones (affiliate link), which you can get at Amazon for a very reasonable price. These are the headphones that I have been mixing on in my home studio for years, with great results.
Added benefit of studio monitors for music listening
One of the extra benefits of using your studio monitors for music listening is that your ears will start to become accustomed to their sound, and you will effectively start to "learn" them.
This will in turn assist your mixing, as you will be making decisions based on a sound that you are very familiar with. This effect will only increase over time; you are essentially training your ears to become experts on your speakers' sound.
Should you buy additional standard speakers?
So, if you have a set of studio monitor speakers, should you buy an additional pair for listening to music?
I think that depends on what your intended music listening activities are. If you are mainly going to be listening on your own, maybe as background music or film/TV soundtracks, then I would recommend you stick with your existing studio monitors. They will sound great, and ideal for your intended uses.
If your speakers are more likely to be providing the music for parties or other multi-person gatherings, maybe in a larger-sized room, I would consider buying an extra set of standard speakers. They will serve you better regarding projecting the audio evenly around the room.
You would of course have to consider your personal space constraints when deciding on the size and placement of any additional speakers you purchase.
Of course, your personal living situation may require you to make as little noise as possible, so no type of speaker is plausible for you! In that case, headphones are your only option. My article on recording with open-back headphones is recommended reading if you are in the market for a pair.
Good luck!
Here is some of my favorite home studio gear…

Thanks for reading this article. I hope you found it helpful in your home music-making activities. Here are a few of the tools that I personally use in my home studio. These are affiliate links, so if you decide to use any of them I'll earn a small commission.

Audio interface: My personal choice for audio interfaces are the Focusrite Scarlett series. I have been using these for years, and they have always given me great-sounding recordings. For a very reasonable price from Amazon you can buy the excellent Focusrite Scarlett 4i4, or if you don't need MIDI capability the Focusrite Solo is a great choice.

Amp sim: Guitar amplifier simulator software has come on leaps and bounds in recent years, such that I record all my electric guitar parts using amp sims these days. One of the very best is the incredible Amplitube from IK Multimedia, which I have used on many of my songs.

Headphones for recording: My favorite headphones for recording are the Sony MDR-7506s, which I use for monitoring during all my recording sessions. They can also be found in many pro recording studios. Get the Sony MDR-7506 headphones from Amazon here.

General-purpose microphone: You can't go wrong with a good ol' Shure SM-57, one of the most versatile and ubiquitous microphones around. I've been using one in my home studio for as long as I can remember. Amazon offers the Shure SM-57 for a very competitive price.

To see all of my most up-to-date recommendations, check out this resource I made for you!