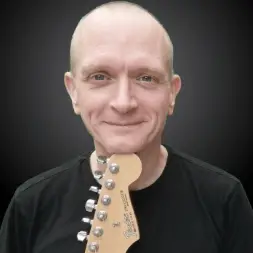 Paul Douglas is an experienced performing and recording musician. He has produced many commercially released songs from his home studio, and has helped many people with music tutorials on his personal YouTube channel. He is the owner of Home Music Creator and its main author.
Hello! I'm Paul Douglas. I have been a musician for over 40 years (yes I know I don't look anywhere near old enough ;-)). I have been writing and recording my own music for somewhere in the region of 25 years. On my personal YouTube channel, I have made many videos on various musical topics. This website also has its own companion Home Music Creator YouTube channel.
In 2020 during the CoronaVirus pandemic, I wrote and recorded two E.P.s in my home studio….
"Smile!" is a "rock" (in the loosest sense of the term) E.P. , with all songs sung by me
"Lockdown Variations" is a "chill" relaxing instrumental collection of songs based around the piano
These E.P.s are available on all the major streaming services and digital music platforms, which you can access via these links….
I have also released music as part of the band Blind Pig Truffle, where I play guitar, keyboards and sing. I mixed and mastered all the songs on the Muttering on Busses E.P.
My Story
Just before my seventh birthday, my Dad bought a second hand piano. He intended to teach himself to play on it, and for it to be there should myself or my sister wish to play it. I started to mess around on it, and began to teach myself a few things along with my Dad, using the elementary learn-piano type books he had bought.
It wasn't long before I started to be able to play a few simple pieces. My Dad thought he recognized some kind of natural ability or talent for it in me, so he said should I ever want lessons he would happily pay for them.
It was about a year after the piano was first bought that I asked if I could start taking lessons. We found a piano teacher that one of my school friends was taking lessons from at the time, and I enrolled with him.
That was the very start of my musical journey. I continued to take piano lessons right up until the age of 18 passing several ABRSM grades on the way, culminating in achieving a distinction in grade 8 at the age of 16, and a ALCM diploma at the age of 17.
At about age 9 (I think), I started taking violin lessons. This led me to playing in several orchestras throughout my childhood and teenage years, which I continued right up until the age of 18.
Parallel to the classical music training on the piano and violin, in my early teens I discovered rock music and loud distorted guitars….and that was me corrupted for life! I got hugely into the band Queen, bought all their albums, and Brian May can be credited as the person most responsible for me first picking up and electric guitar when I was about 14 or 15. My very own electric guitar came along for my 16th birthday, and I was hooked. I found my previous musical training on the piano and violin hugely helped with learning the basics of the guitar relatively quickly.
Around this time was my first entry into the world of multi-track recording, using a Tascam 4 track cassette recorder borrowed from my school's music department. Anyone remember those? Compared to what we can do today with DAW (Digital Audio Workstation) software it seems so primitive, but at the time I thought they were absolutely amazing. Record 4 tracks separately that will then play back at the same time? Incredible! Then you can effectively get more tracks by "bouncing" multiple tracks on to one track. Just fantastic! Needless to say my first attempts at multi-track recording were not great, but everyone needs to start somewhere.
Fast forward a few years to the end of the 1990s, and I bought my first music recording software – Cubase. This was an absolute revelation for me; what you could do in the software on the computer was light years ahead of what the good old Tascam 4-track could do. I spent the next few years writing recording as much music as I could, learning the software, recording, arranging and mixing techniques and anything else I could use on my music-creating journey.
Starting a family in the mid 2000s somewhat slowed my rate of music production. Instead, I joined and played in several covers bands, which I continue to do today. It's a lot easier and much less time-consuming to learn someone else's songs than it is to write your own! However, I continued to record and write music where I could, trying to keep up with the capabilities of the ever-improving software.
These days my kids are a lot older, and I have a lot more time on my hands to write and record music, and to immerse myself in the fantastic technology we have available to us. It still amazes me how we can create a home studio for relatively little money, with capabilities that would only have been possible in a professional studio with hundreds of thousands of pounds worth of equipment a few decades ago.
In 2016 I teamed up with my friend Simon (an old bandmate of mine) to write and record some music. This was my first attempt at writing with someone else, and we were both apprehensive at first. But as it turns out, it was very successful and our writing styles complemented each other nicely. This culminated in several days in a professional recording studio in Brussels, where we recorded 5 songs along with several other guest musicians. It took a few years after tracking for these songs was complete for the music to see the light of day (life happens)! Eventually, I mixed and mastered all the songs on the "Muttering on Busses" E.P., which a link to can be found at the top of this page.
In 2020 (the dreaded Covid-19 pandemic year) I used the extra time at home to create 2 EPs worth of music in my home studio. Entirely written, performed, recorded and mixed by myself, the "rock" (in the loosest sense of the term) EP "Smile!" and the "chill" piano-based instrumental EP "Lockdown Variations" were released on digital music platforms in January 2021. I was determined to actually release the music I made, rather than let it languish for years like in previous experiences. Links to both those EPs can be found at the top of this page.
Throughout all the above, I was learning all about creating music in a home studio. Learning recording techniques for vocals, miking up guitar amps, microphone placement and types, audio interfaces, DAWs, amp sims, drum emulation and programming, mixing techniques, EQ, compression and lots more! And of course, as anyone committed to learning anything should, I have made lots and lots of mistakes along the way! The information I have gathered over the years and lessons learned from the mistakes form a great resource for others looking to tread a similar path to me in terms of recording music at home.
If you have made it this far through this "About" page, congratulations – I really didn't expect anyone to read this much! I hope the information on this website proves useful to you, and the best of luck in your music recording journey.